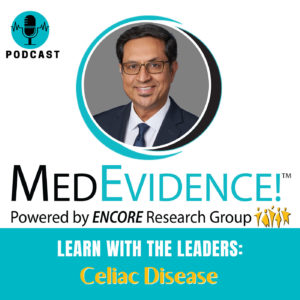 In this episode of MedEvidence's Learn with the Leaders, Dr. Bharat Misra, Medical Director of ENCORE Borland Groover Clinical Research, discusses celiac disease. Celiac disease is a complex autoimmune disorder that affects about 1 in 100 people worldwide. Dr. Misra discusses the latest research on celiac disease, including the genetic and environmental factors that contribute to the development of the disease.
He shares his expertise on the diagnosis and management of celiac disease, as well as the importance of maintaining a gluten-free diet for those with the condition. We also explore how to navigate the challenges of living with the disease.
Dr. Misra's extensive knowledge and experience in the field of celiac disease make this episode a must-listen for anyone interested in learning more about this condition. Whether you are a healthcare professional, a patient, or a caregiver, you will find valuable insights and information in this informative podcast episode.
Dr. Bharat Misra is the Medical Director of ENCORE Borland Groover Clinical Research and has been a Principal Investigator of numerous clinical trials. He also serves on the Board of Directors at Memorial Hospital and Jacksonville Center for Clinical Research in Jacksonville, Florida. He completed his residency in internal medicine and fellowship in Gastroenterology at the Nassau University Medical Center, State University of New York, and his Bachelor of Medicine and Bachelor of Surgery from Gandhi Medical College in India.

Original Air Date: March 27, 2023
Be a part of advancing science by participating in clinical research

Share with a friend. Rate, Review, and Subscribe to the MedEvidence! podcast to be notified when new episodes are released.

Follow us on Social Media:
Facebook
Instagram
Twitter
LinkedIn

Powered by ENCORE Research Group
Music: Storyblocks - Corporate Inspired

Thank you for listening!