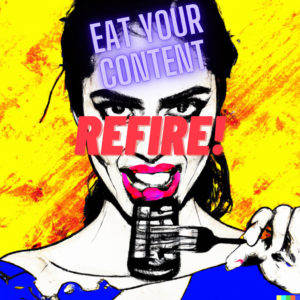 **BRAND NEW SERIES!**
EYC: REFIRE is a spin-off series in the Eat Your Content podcast network where host Rich Herrera and friends rewatch foodie movies and other media from the past and share their thoughts and insights.
For this first in the series, Rich is joined by Brittny Lowery, co-owner and operator of The Happy Grilled Cheese franchise with restaurants located in Jacksonville, FL, Austin, TX, and a new all-vegan, all-natural concept, Dine Happy, in the Native Sun Natural Food Market in Jacksonville Beach, FL. She's also a writer for Jacksonville Restaurant Reviews and is a moderator for the 73,000+ member Facebook group, "The Scoop with Jax Restaurant Reviews."
Rich and Brittny discuss the 2014 movie Chef, a movie written, directed, co-produced, and starring Jon Favreau. How does the movie hold up almost 10 years later? Listen and find out...
Follow EYC on Socials
Instagram: @richherrera
Facebook: https://www.facebook.com/richherrera1250 
--- Support this podcast:
https://podcasters.spotify.com/pod/show/eatyourcontent/support