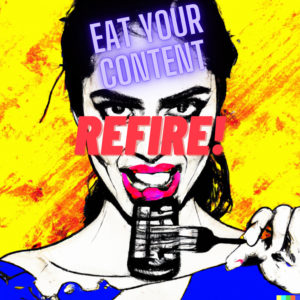 **Content Warning:**
This podcast episode contains discussions about adult themes, strong language, and references to the 2005 cult classic film "Waiting...," which includes scenes of explicit content and humor. Listener discretion is advised.
---
Welcome to Eat Your Content: REFIRE, the podcast that serves up a sizzling dish of cinematic nostalgia! I'm your host Rich Herrera, and today we're taking a trip down memory lane to celebrate the 2005 cult classic, "Waiting...," with none other than the film's director and screenwriter, Rob McKittrick.
"Waiting..." is a raucous comedy that takes you behind the scenes of a not-so-typical restaurant, ShenaniganZ, and exposes the chaotic, hilarious, and downright insane world of the service industry. If you've ever worked in a restaurant, you'll undoubtedly relate to the madness that unfolds on screen.
In this special episode, we'll dive deep into the making of "Waiting...," exploring its creation, the unforgettable characters, and the lasting impact it's had on both the film industry and its devoted fan base. Rob McKittrick will share exclusive behind-the-scenes stories, insights into the film's production, and his personal reflections on the movie's success.
So, grab a plate of mozzarella sticks, find a quiet corner in your own ShenaniganZ, and join us as we REFIRE the grills, reminisce about the glory days of this cult classic, and maybe even uncover a secret or two about what went down behind those kitchen doors. Get ready to laugh, cringe, and discover a whole new side to "Waiting...," right here on Eat Your Content: REFIRE.
Follow EYC on Socials
Instagram: @richherrera (https://www.instagram.com/richherrera/) & @eatyourcontent (https://www.instagram.com/eatyourcontent) 
X (formally known as Twitter): @richherrera (https://twitter.com/richherrera)
Facebook: https://www.facebook.com/richherrera1250 
Atmosfy: https://atmosfy.io/richherrera
TikTok: @eatyourcontent (https://www.tiktok.com/@eatyourcontent)
Web: https://www.bio.site/eatyourcontent
--- Send in a voice message: https://podcasters.spotify.com/pod/show/eatyourcontent/message Support this podcast:
https://podcasters.spotify.com/pod/show/eatyourcontent/support