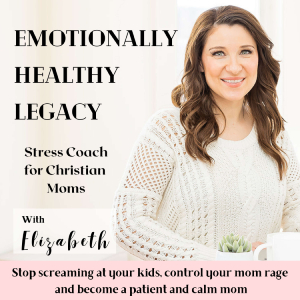 Did you grow up with an angry parent? Does anger feel unsafe to you? Do you act and lash out in anger the same way as one of your parents? Do you wish to break that cycle?
In this episode you will learn:
How my Christian Faith affected my view of anger 
How your beliefs about parenting contribute to your anger with kids 
How your parents handled anger will reflect on you and your actions 
I share with you how my upbringing affected me and the way I handle anger. Just because you grew up seeing anger handled in an unhelpful way, that does not mean you are hopeless and you will always repeat that cycle. There is a way to change that with Gods help and support. 
Listen to related episodes:
~~~~~~~~~~~~~~~~~~~~~~~~~~~~~~~~~
Next Steps:
Download Free Guide:
5 Powerful and effective ways to calm down when feeling triggered
Get support:
~~~~~~~~~~~~~~~~~~~~~~~~~~~~~~~~~
Website: emotionallyhealthylegacy.com
Contact: [email protected]
Submit a Question to be answered on the show
Leave me a voice memo with a question/comment
Support this podcast for a small monthly donation