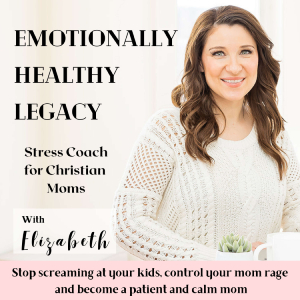 Do you pray for God to take your anger away but nothing happens? Are you a Christian mom who wants to stop exploding in mom rage toward your kids? There is hope my friend. 
In this episode you will learn:
What happens in your mind and body when you get still and connect with God
How you can become more like God in your parenting 
What needs does God fulfill when you connect with Him 
There a many benefits for us as Christians to connect with God daily and growing a deeper relationship with Him but one of them is that it helps us become more like Him. God is patient and kind, slow to anger. If we want to be more like him, we need to surround ourselves with His presence.

Have you left a podcast review yet? This is how.

Leave a review and email me a screenshot of your review  [email protected]  to be entered into a monthly giveaway to win my Emotionally Healthy Mom course!

When you leave a review it really helps to increase my podcast reach and others find this show. Also, it helps me feel encouraged :)  Thank you friend. 
Listen to related episodes:
~~~~~~~~~~~~~~~~~~~~~~~~~~~~~~~~~
Next Steps:
Download Free Guide:
5 Powerful and effective ways to calm down when feeling triggered
Get support:
~~~~~~~~~~~~~~~~~~~~~~~~~~~~~~~~~
Website: emotionallyhealthylegacy.com
Contact: [email protected]
Submit a Question to be answered on the show
Leave me a voice memo with a question/comment
Support this podcast for a small monthly donation