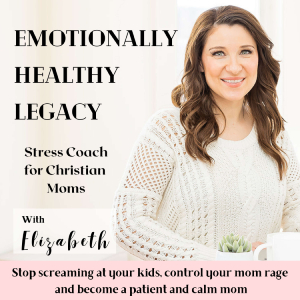 Yelling might make you feel like you're taking charge when things are getting out of hand, but it's not a great habit to get into. It's important to remember that yelling too much can cause problems and it's better to find other ways to deal with difficult situations.

In this episode you will learn:
Why reading books, listening to podcasts and praying to stop yelling is not working
How tyou can chance your thoughts to create more patience with kids and reduce yelling
What you can do to get your kids to listen to you without resorting to yelling
Yelling can make you feel powerful for a moment yet it's not a healthy pattern in the home. If you yell, your kids will yell right back at you. If you want to model emotional regulation, it starts with you.

***JOIN FREE VIRTUAL PODCAST MEETUP!*** May 12th at 8 pm ET. You are invited my friend!

Get Emotionally Healthy Mom Course for Mothers day! Use code MOM50 to get 50% off the course! Gift your kids a patient and calm mama!
~~~~~~~~~~~~~~~~~~~~~~~~~~~~~~~~~
Next Steps:
Download Free Guide:
5 Powerful and effective ways to calm down when feeling triggered
Get support:
~~~~~~~~~~~~~~~~~~~~~~~~~~~~~~~~~
Website: emotionallyhealthylegacy.com
Contact: [email protected]
Submit a Question to be answered on the show
Leave me a voice memo with a question/comment
Support this podcast for a small monthly donation