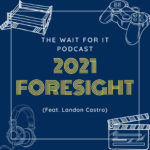 Happy New Year! Welcome to the first episode of 2021. 2020 was an absolute dumpster fire from start to finish, so why don't we look ahead? Much like we did last year, @MrEricAlmighty & @PhilTheFilipino discuss all the things they're looking forward to in the new year. For this episode, we brought in a longtime supporter of the show, Landon (aka NightHaus). Together, the three of us discuss how our 2020 went, & also get into all the things to look forward to in the new year. From movies, to television, to gaming, we cover it all in 2021 Foresight!

Please head over and support what Landon has going on over at Twitch TV: NightHaus

Looking for more from us? Subscribe to our YouTube channel to check out our livestream review of WW84 and for more video content in 2021!
🔻[*AFFILIATE LINK BELOW*] - Depending on your streaming app, links may be distorted in text. If so, you can find this episode on our main site at > waitforitpodcast.buzzsprout.com <🔺

🔻Want to skip the lines for your next grocery trip? Use our referral link for Instacart to get free delivery on your first order over $35 and to support our show: > https://instacart.oloiyb.net/emZ9O <🔺

🔻BACKGROUND MUSIC PROVIDED BY: Imagination by Free Vibes: https://goo.gl/NkGhTg🔺
Instacart - Groceries delivered in as little as 1 hour.
Free delivery on your first order over $35.
Disclaimer: This post contains affiliate links. If you make a purchase, I may receive a commission at no extra cost to you.