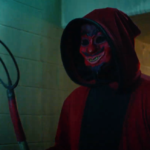 On Halloween, a group of friends encounter an "extreme" haunted house that promises to feed on their darkest fears. The night turns deadly as they come to the horrifying realization that some nightmares are real.
On this week's episode…
Join the crew as we discuss extreme haunts, body modification, and the latest Halloween centered horror film, Haunt.
Show Notes:
Housekeeping (3:30)
What We've Been Watching (11:03)
Back of the Box/Recommendations (24:40)
Spoiler Warning/Full Review (32:48)
Rotten Tomatoes (70:20)
Cooter of the Week (75:31)
News (78:56)
Hotline Scream (86:50)
Bob's Blu Rays (102:40)
Connect with us: