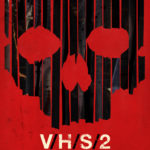 Searching for a missing student, two private investigators break into his house and find collection of VHS tapes. Viewing the horrific contents of each cassette, they realize there may be dark motives behind the student's disappearance.
On this week's episode…
Join the crew as we discuss horror anthologies, haunted tapes, and Bloody Disgusting's, VHS2.
Show Notes:
Housekeeping (3:15)
Back of the Box/Recommendations (7:37)
Spoiler Warning/Full Review (14:08)
Rotten Tomatoes (89:23)
Trivia (95:11)
Cooter of the Week (99:10)
What We've Been Watching (112:03)
Hotline Scream (124:36)
Connect with us: