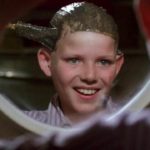 Peanut butter is the secret ingredient for magic potions made by two friendly ghosts. Eleven-year-old Michael loses all of his hair when he gets a fright and uses the potion to get his hair back.
On this week's episode…
Join the crew as we discuss children's horror movies, various places to put peanut butter, and Michael Rubbo's oddball film from 1985, The Peanut Butter Solution.
Show Notes:
Housekeeping (3:05)
Back of the Box/Recommendations (7:56)
Spoiler Warning/Full Review (14:00)
Rotten Tomatoes (64:03)
Trivia (67:19)
Cooter of the Week (73:50)
What We've Been Watching (81:53)
Hotline Scream (90:24)
Connect with us: