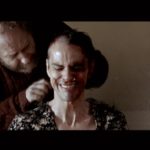 Marc, a traveling musician, is on his way home for Christmas when his van breaks down in a backwoods town. The locals seem friendly at first but soon he finds out they have no intentions of letting him leave. Prepare yourself for The Ordeal.
On this week's episode…
Join the crew as we discuss New French Extremity, Biblical allegory, and the feel good Christmas film from 2004, Calvaire.
Show Notes:
Housekeeping (3:45)
Back of the Box/Recommendations (10:40)
Spoiler Warning/Full Review (17:24)
Rotten Tomatoes (79:55)
Trivia (86:49)
Cooter of the Week (91:56)
What We've Been Watching (100:55)
Hotline Scream (115:20)
Connect with us: