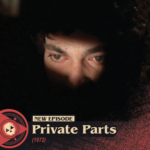 Cheryl moves into her estranged Aunt Martha's skid row hotel. One of the residents takes a special interest in her as she begins to suspect another girl was murdered.
On this week's episode…
Join the crew as we discuss shitty Aunts, bondage priests, inflatable dolls and the psychosexual, Private Parts (1972).
Show Notes:
Housekeeping (3:45)
Back of the Box/Recommendations (9:15)
Spoiler Warning/Full Review (13:21)
Rotten Tomatoes (70:50)
Trivia (75:25)
Cooter of the Week (79:22)
What We've Been Watching (87:35)
Hotline Scream (102:30)
Connect with us: