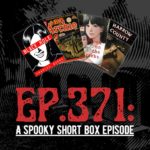 Kory Torjussen (host of the TWIMB podcast) joins a Halloween-ready Short Box crew for their annual horror comics show and tell. Watch the video version of this episode on YouTube!

And don't forget, this is the last week to enter our giveaway for a CGC 9.8 Deadly Class #1! Click here for contest rules

TIMESTAMPS:
Horror Comics Spotlight - 00:12:15 
Halloween Traditions - 00:52:03
NYCC Predictions - 01:00:15
Champion Picks - 01:12:27
SUPPORT THE SHOW: 
Proudly sponsored by Gotham City Limit!
Support the show
GET IN TOUCH FOR MORE WEEKLY CONTENT! 🤝🏼