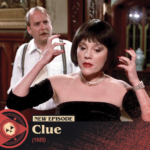 Six guests are anonymously invited to a strange mansion for dinner. After the host is killed, they must work with the staff to identify the killer as the bodies pile up.
On this week's episode…
Join the crew as we discuss Tim Curry, Christopher Lloyd and the board game turned feature film, Clue (1985).
Show Notes:
Housekeeping (3:15)
Back of the Box/Recommendations (11:39)
Spoiler Warning/Full Review (17:56)
Rotten Tomatoes (82:12)
Trivia (89:47)
Cooter of the Week (96:16)
Hotline Scream (105:03)
Connect with us: