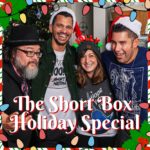 This episode was recorded during the Short Box Christmas party, where we reunited in person to celebrate the holidays and the 10th anniversary of the show! This rowdy episode is brought to you by friendship, Christmas cheer, and Ashley's famous spiked eggnog 🎅🏽

TIMESTAMPS:
Our Holiday Traditions - 00:12:39
Christmas Comics Spotlight - 00:23:13 
Other Recommendations To Put You In The Festive Mood - 00:55:39
Champion Season Picks - 01:09:50
Mail Bag Segment - 01:31:09
SUPPORT THE SHOW: 
Click here to join our Patreon community and get access to bonus episodes and special rewards for as little as a $1. 
Use the discount code "YOO" to save 10%  when you buy merch from our store. Shop for shirts, hats, and pins here
Music provided by: Mecca Tha Marvelous, DJ Crumbz, & L.E.R.M.
Proudly sponsored by Gotham City Limit!
Support the show
GET IN TOUCH WITH US! 🤝🏼