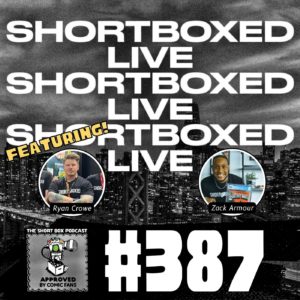 Ryan Crowe is the head of marketing and community at Shortboxed, the fastest growing app to buy & sell graded comic books, and he's on the show this week with Badr, and Zack from Comic Ventures, to talk about the company's thriving community of collectors, and their upcoming Shortboxed Live event. Watch the video version of this podcast on YouTube!
TOPICS & TIMESTAMPS: 
An introduction to Ryan Crowe & Shortboxed - 07:39
How the Shortboxed app came to be - 17:29
Building a community and a modern, mobile marketplace - 27:01
What to expect at Shortboxed LIVE - 40:56
Shortboxed LIVE special guests: Comic artist charades game - 47:55
Comic grails and rare comics - 01:06:17
If one episode a week isn't enough for you, consider joining our Patreon Community for more content!  Click here to join the Short Box family and get access to bonus episodes and special rewards for as little as a $1. Your support is greatly appreciated 
BONUS LINKS: 
Take your comic shopping experience to the limit at Gotham City Limit!
Use the discount code "YOO" to save 10%  when you buy merch from our store
Proudly sponsored by Gotham City Limit!
Support the show
GET IN TOUCH WITH US! 🤝🏼