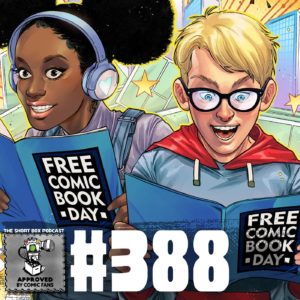 Ever wondered how Free Comic Book Day, the biggest comic event in the world, got started? Well, Joe Field is the man to thank for that, and he's on the show to talk about the origin of FCBD, working with Stan Lee back in the day, and the original campaign that made Stockton, CA the official birthplace of Marvel's first family. Click here to watch the video version of this podcast on YouTube. 
TOPICS & TIMESTAMPS: 
Joe's origin story - 04:08
FCBD and comic book movie release weekends - 26:14
The biggest challenges facing comic retailers today - 48:12
Joe's most prized-comic possession in the world - 59:42
Episode artwork by Laura Braga
If one episode a week isn't enough for you, consider joining our Patreon Community for more content!  Click here to join the Short Box family and get access to bonus episodes and special rewards for as little as a $1. Your support is greatly appreciated

BONUS LINKS: 
Take your comic shopping experience to the limit at Gotham City Limit!
Use the discount code "YOO" to save 10%  when you buy merch from our store
Proudly sponsored by Gotham City Limit!
Support the show
GET IN TOUCH WITH US! 🤝🏼