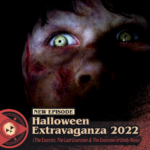 The Exorcist
When a teenage girl is possessed by a mysterious entity, her mother seeks the help of two priests to save her.
The Exorcism of Emily Rose
A lawyer takes a negligent homicide case defending a priest who performed an exorcism on a young girl.
The Last Exorcism
A troubled evangelical minister agrees to let his last exorcism be filmed by a documentary crew.
On this week's episode…
Join the crew as we discuss an absolute classic, a courtroom drama inspired by true events and a found footage exorcism gone wrong as we celebrate our annual Halloween Extravaganza!
Show Notes:
Housekeeping (2:30)
Back of the Box/Recommendations (9:26)
Spoiler Warning/Full Review (14:15)
Rotten Tomatoes (53:42)
Trivia (59:10)
Back of the Box/Recommendations (65:18)
Spoiler Warning/Full Review (69:22)
Rotten Tomatoes (105:25)
Trivia (110:44)
Back of the Box/Recommendations (115:50)
Spoiler Warning/Full Review (119:35)
Rotten Tomatoes (158:08)
Trivia (166:00)
Cooter of the Week (170:58)
Connect with us: