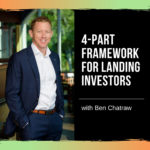 Looking for investors? This serial-entrepreneur explains how to attract and land investors.
4-Part Framework for Landing Investors with Entrepreneur Investor Ben Chatraw
Throughout this entire episode, Ben shares his 4-part framework that he uses when looking at potential investments. The first and most important part of this is the person they are investing in, not just the product or service. (People make up more than 51% of the value.) As an investor, Ben says he wants confidence in the charter of the person that he is investing in.
You can never eliminate risk, but Ben wants to work with people that have a plan for when these risks come into play. Money is not the most important part of getting a deal with an investor, there are more important elements that need to be considered.
4-Part Framework for Landing Investors:
#1. People
#2. Opportunity
#3. Context
#4. Deal
For full show notes including resources and more about Ben, visit: https://creatingabrand.com/4-part-framework-for-landing-investors-with-entrepreneur-investor-ben-chatraw