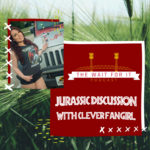 Welcome to a very special episode of "Wait For It Wednesday"! Since @PhilTheFilipino is the show's resident Jurassic Super-Fan, he had to bring in a very special guest for this episode. We know her as Laura, but you may recognize her as @CleverFanGirl, as she is one of the most popular representatives of the Jurassic Park/Jurassic World fandom! She & Phil discuss everything from how they got into the films, Jurassic World: Camp Cretaceous, Jurassic World: Dominion, & more Jurassic related topics!

Find Clever Fangirl here:

YouTube / Instagram

🔻[*AFFILIATE LINKS BELOW*] - Depending on your streaming app, links may be distorted in text. If so, you can find this episode on our main site at > waitforitpodcast.buzzsprout.com <🔺

🔻This episode was recorded on SquadCast - if you need somewhere to record, consider using our referral link: > https://squadcast.fm/?ref=waitforitpod <🔺

🔻Want to start podcasting? Use our referral link to Buzzsprout for a $20 Amazon Gift Card and to support our show: > https://www.buzzsprout.com/?referrer_id=872095 <🔺

🔻
"Sarah Jansen - Far Away" is under a Creative Commons (cc-by) license
Music promoted by BreakingCopyright: https://youtu.be/gkmG6fHWGH8🔺
Buzzsprout - Let's get your podcast launched!
Start for FREE
Disclaimer: This post contains affiliate links. If you make a purchase, I may receive a commission at no extra cost to you.