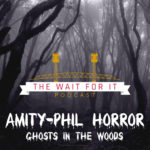 ***CONTENT WARNING***

The following episode contains stories that pertain to suicide and & depression. If you, yourself are experiencing suicidal thoughts, please contact either Amaris or Phil, or the Suicide Prevention Hotline. You are loved, you matter, & there are people out there that want to help.

Suicide Prevention Hotline: 800-273-8255
Suicide Prevention Website: https://suicidepreventionlifeline.org/

_____________________

Happy Spook Season, friends! @PhilTheFilipino is back with another horror filled episode of the Amity-Phil Horror! & of course, he brought back his friend Amaris Riddle from the *BRAND NEW* paranormal podcast, "Riddle'd With Nightmares". Together, they discuss two different locations that are hot spots for paranormal activity.

My Riddle Kitchen: Hi! I'm Amaris, a Dallas-based girl living out her dream of being a professional chef. I proudly run Sugar Fang Vegan Bakery, and create vegan menu items for BrainDead Brewing, both located in Deep Ellum, Texas. When I'm not at the bakery I'm making a mess crafting recipes in my kitchen at home. I hope you enjoy my traditional recipes made vegan!

YouTube Video: OVERNIGHT AT SUICIDE FOREST

🔻[*AFFILIATE LINK BELOW*] - Depending on your streaming app, links may be distorted in text. If so, you can find this episode on our main site at > waitforitpodcast.buzzsprout.com <🔺

🔻Want to start podcasting? Use our referral link to Buzzsprout for a $20 Amazon Gift Card and to support our show: > https://www.buzzsprout.com/?referrer_id=872095 <🔺

🔻BACKGROUND MUSIC PROVIDED BY:
Music provided by No Copyright Music:
https://www.youtube.com/c/royaltyfree...
Music used: Ghost by Tim Beek
timbeek.com
Licensed under Creative Commons Attribution 4.0
https://creativecommons.org/licenses/...🔺
Buzzsprout - Let's get your podcast launched!
Start for FREE
Disclaimer: This post contains affiliate links. If you make a purchase, I may receive a commission at no extra cost to you.