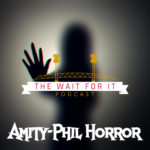 @PhilTheFilipino is back with a brand new episode of Amity-Phil Horror. This week, he tackles the terrifying phenomenon that is shadow people & he brought along a guest! Amaris Riddle from "My Riddle Kitchen" over on YouTube. Phil & Amaris both have a passion for real-life spooky stories, so naturally they teamed up to bring you some of the lore & first hand encounters.

My Riddle Kitchen: Hi! I'm Amaris, a Dallas-based girl living out her dream of being a professional chef. I proudly run Sugar Fang Vegan Bakery, and create vegan menu items for BrainDead Brewing, both located in Deep Ellum, Texas. When I'm not at the bakery I'm making a mess crafting recipes in my kitchen at home. I hope you enjoy my traditional recipes made vegan!

🔻[*AFFILIATE LINKS BELOW*] - Depending on your streaming app, links may be distorted in text. If so, you can find this episode on our main site at > waitforitpodcast.buzzsprout.com <🔺

🔻This episode was recorded on SquadCast - if you need somewhere to record, consider using our referral link: > https://squadcast.fm/?ref=waitforitpod <🔺

🔻Want to start podcasting? Use our referral link to Buzzsprout for a $20 Amazon Gift Card and to support our show: > https://www.buzzsprout.com/?referrer_id=872095 <🔺

🔻BACKGROUND MUSIC PROVIDED BY:
Artist: Cypher Beats
Title: "Why?"
Soundcloud: https://soundcloud.com/d3_beats🔺
Buzzsprout - Let's get your podcast launched!
Start for FREE
Disclaimer: This post contains affiliate links. If you make a purchase, I may receive a commission at no extra cost to you.