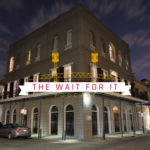 @PhilTheFilipino is back with the first Amity-Phil Horror episode of the year! We got away from this series for a bit in the latter half of 2019, but Phil is committed to bringing you more scary stories from around the world. This weeks episode centers around the LaLaurie Mansion in New Orleans, Louisiana.
"If you've read anything about the ghosts and hauntings in New Orleans, there's no doubt that you've heard about the LaLaurie Mansion. It is one of the most popular stops on our New Orleans Ghost Tours. Sometimes, people in the city won't even call it that, choosing to refer to 1140 Royal Street as "the Haunted House" instead. Fact is, in New Orleans the two are one and the same." - https://ghostcitytours.com/new-orleans/haunted-places/lalaurie-mansion/
Also, be sure to follow us on ALLLLLLL of our social media platforms below:
Facebook: www.facebook.com/WaitForItPodcast
Twitter: twitter.com/WaitForItPod
Instagram: www.instagram.com/waitforitpodcast
Anchor: bit.ly/WFI-Anchor
Spotify: bit.ly/WFI-SP
Apple Podcasts: bit.ly/WFI-IT
BACKGROUND MUSIC PROVIDED BY:
🔻Music provided by No Copyright Music: https://www.youtube.com/c/royaltyfree... 
Music used: Ghost by Tim Beek timbeek.com  
Licensed under Creative Commons Attribution 4.0 https://creativecommons.org/licenses/...
🔺
--- Send in a voice message: https://anchor.fm/waitforitpodcast/message