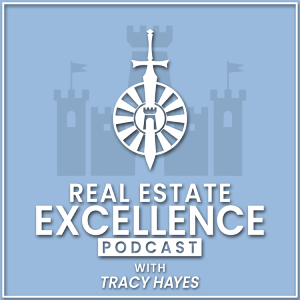 Succeeding in the real estate business is about learning the needs of people, and everyone needs a home inspection to buy or sell. BJ Johnson knows this perfectly, and his knowledge about the industry and attention to detail have carried his company, Inside & Out, to the top.
Throughout his youth, BJ performed as a professional golfer, but the entrepreneurial spirit of his father inspired him to immerse himself in the world of business. As his father took him to construction, he worked as a manager, and he developed incredible, on-the-ground knowledge about construction, which later became the cornerstone of his house inspection business.
Tune in to this episode of Real Estate Excellence to learn how the best inspectors make it happen.
00:00 - 13:19] From Professional Golfer to Property Inspection Entrepreneur
• BJ Johnson spent 4-5 years playing professional golf since high school, though he realized how hard it is to earn money playing. 
• Working with his dad taught BJ how a home was built and taught him a proper work ethic. 
• BJ's knowledge comes fundamentally from real-world experience.  
• Most of St. Augustine's homes were built in the last 20 years, but further in, there are older homes with potential for renovations.
[13:19 - 26:23] Building a Family and A Business
• After his wife got pregnant, BJ began searching for new opportunities, and a good friend of his asked him to inspect a property.
• He began the business as a single-man shop and gradually built a team as he gained more experience.
• BJ hires his team members based on their personalities, communication skills, and their ability to carry a conversation and relate to potential clients.
[26:23 - 39:26] Training a Team and Education in the Home Inspection Business
• It is important for BJ to allow his team members to learn, access educational opportunities, and train themselves.
• Most home inspectors don't have formal training or construction background, but they can become great inspectors through repetition.
• Every house is a different story, so the trade is learned by repetition.
• Having the best equipment you can get to document your work and share information is extremely important.
[39:26 - 45:56] The Importance of Proper Quality Control for Homebuyers
• Quality control is important for builders to avoid costly mistakes like improperly sized footers, erosion, and lack of nail guards, among other examples.
• Builders may hire third-party inspectors for code inspections, but it's not enough for quality .control.
• Safety codes constantly evolve, and builders must keep up with them.
[45:56 - 52:01] Efficient Online Booking and Customer Service 
• Online booking is available with an app for scheduling inspections.
• You should have at least three customer service representatives available to answer calls and emails.
• Preferred method of communication is email, but phone calls are also answered.
• Reports are completed within a few hours of inspection using tablets and phones for documentation.
• Communication with agents is emphasized, including calling before reports are opened and being available for questions after the inspection.
[52:02 - 58:19] Tips on Simplifying Reports for First-Time Buyers"
• Include a categorization of issues as maintenance, defect, or safety with color coding in the report.
• Importance of communication and ensuring understanding between inspector and buyer.
• Recommendations for addressing issues, including referral to trusted professionals.
• Need for building relationships with realtors and service providers.
• Three important things for home inspectors: communication, ensuring understanding, and providing recommendations.
[58:19 - 01:05:00] Building Customer Relationships
• Building customer relationships is important for a home inspection company.
• Patience with customers is necessary, as some require more handholding than others.
• Getting caught up in competition can lead to failure. Sticking to the game plan is important.
• Technology has evolved in the industry, but it's important to remember that tools are only a supplement to the inspector's expertise
[01:05:00 - 01:11:25]  Building Strong Relationships with Agents and Clients
• Home inspections are visual inspections only, and equipment testing is simple
• Moisture meters and thermal cameras are not required but are needed due to nightmare stories
• Technology has advanced in recording reports and findings, making it easier for inspectors to document their job
• Communication among team members is daily, with occasional team gatherings to unwind
• Word of mouth is the best marketing strategy, followed by social media and email communication with realtors
• Customer service is key to retaining realtors and acquiring new ones
• Success stories lead to positive word of mouth, which can attract new business.
[01:11:25 - 01:17:33] The Importance of Consistency and Communication in Reports
• The importance of following one's conscience and being consistent in their work.
• The advantages of using their team inspection service include efficiency, same-day reports, and access to technology.
• Communication is key in presenting inspection reports to buyers and agents.
•  BJ's wife started K9 United, an organization that supports police dogs.
[01:17:33 - 01:24:10] Providing Essential Support to Underfunded K-9 Units 
• Canines United provides equipment such as vests, tracking harnesses, and leashes to underfunded units nationwide.
• Canines United also hosts training seminars with top trainers from across the nation to improve K9 unit operations.
• The organization has helped pass state bills to increase penalties for killing mounted or rescue dogs and to allow the transport of K9s in ambulances.
• It's important to have both knowledge and connections, but knowing how to leverage them. 
Quotes:
"You gotta see the big picture. If you have the right mindset and put in the effort, the rest will take care of itself." - BJ Johnson
"You're never gonna get a perfect house, but it doesn't mean you can't try." - BJ Johnson
"We wanna be your building consultant for life. If you have a question, even if it's a year, call us; we're here to help." - BJ Johnson
"There's no marketing that beats word of mouth." - BJ Johnson
If you want to make contact with BJ, learn more about his business, and make him a part of your network, make sure to visit his Facebook profile and give him a follow:
https://www.facebook.com/InsideandOutPropertyInspectors?ref=hl
If you want to build your business and become more discoverable online, Streamlined Media has you covered. Check out how they can help you build an evergreen revenue generator all 
powered by content creation!
SUBSCRIBE & LEAVE A 5-STAR REVIEW as we discuss real estate excellence with the best of the best.