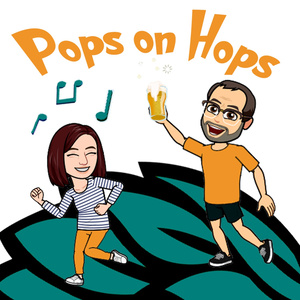 We are excited to share this bonus episode with all of you. Several musicians who have appeared on the podcast or will be making their debut in early 2023 were kind enough to share their Christmas greetings… and their Christmas songs… for our Pops on Hops fans! Some of these are older songs, and some were recorded specifically for this episode.
First up is "The Christmas Song" performed by Connie and Nick Martino (feat. Daphne Martino). Nick will be joining us next season to discuss his work with New York Funk Exchange.
Our second entry is from Matt Carlson of Harborcoat. Matt produced a new Christmas single for 2022, a cover of Valley Winter Song by Fountains of Wayne. Listen to Matt's interview in our episode Friends are Inclusive.
Up next is Jack Cornell, who shared an old Olympic Ass-Kicking Team song, "Christmas on the Faces." Listen to Jack's interview in our episode Friendship Wins.
Rounding out our special is a song by Grammy-winning artist Jon Carroll, formerly of Starland Vocal Band. Jon shared his recording of Going Home For Christmas, a song he has long played at the Annual Jingle Jam Concerts in Leesburg, Virginia, to benefit the Juvenile Diabetes Research Foundation. Listen to Jon's interview in our episode Today (With Jon Carroll).
We will see everybody when season three begins in March 2023. We will kick things off with a discussion of Xanadu by ELO, submitted to our Virtual Jukebox by Greg Jong of The Procession. This episode will be released on March 3, 2023.
Follow Barry or Abigail on Untappd to see what we're drinking when we're not on mic!
Facebook | Instagram | Twitter | YouTube | Website | Email us | Virtual Jukebox
--- Send in a voice message: https://podcasters.spotify.com/pod/show/pops-on-hops-podcast/message