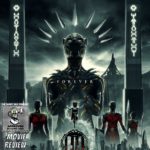 Finally unlocked from our Patreon: Recorded immediately after their first viewing of the movie, Badr, Drew, and returning guest, Blythe Brumleve, hopped on the mics to discuss their thoughts and fresh reactions to Wakanda Forever. BEWARE OF SPOILERS if you haven't seen the movie
SUPPORT THE SHOW: 
Click here to join our Patreon community and get access to bonus episodes and special rewards for as little as a $1. 
Use the discount code "YOO" to save 10%  when you buy merch from our store. Shop for shirts, hats, and pins here
Music provided by: Mecca Tha Marvelous, DJ Crumbz, & L.E.R.M.
Proudly sponsored by Gotham City Limit!
Support the show
GET IN TOUCH WITH US! 🤝🏼