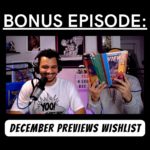 Badr & Drew discuss the best comics they've read all month, and then compare notes on the most interesting comics, manga, toys, and merch hitting shops soon, according to this month's PREVIEWS catalog. Check out the merch below, and watch the video version of this episode on YouTube!

PREVIEWS Wishlist (starts at 00:14:48)
Drew's Pick:
Badr's Picks:
Ben's Pick: 
SUPPORT THE SHOW: 
Click here to join our Patreon community and get access to bonus episodes and special rewards for as little as a $1. 
Use the discount code "YOO" to save 10%  when you buy merch from our store. Shop for shirts, hats, and pins here
Music provided by: Mecca Tha Marvelous, DJ Crumbz, & L.E.R.M.
Eat Sleep Nerd
Listen in on the geeky conversions of four life-long nerds.
Listen on: Apple Podcasts Spotify
Proudly sponsored by Gotham City Limit!
Support the show
GET IN TOUCH WITH US! 🤝🏼