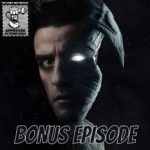 Badr & Drew rewatch the premiere of Moon Knight, and share their reactions, opinions, and predictions while the episode plays. Fire up Disney+ and watch along with us! (starting at 00:07:00), and watch the video version of this podcast on our YouTube!
SUPPORT THE SHOW: 
Want to hear these episodes the second we post them? Subscribe to our Patreon! 
HELPFUL LINKS:
NEXT WEEK: League of Comic Geeks interview!
Proudly sponsored by Gotham City Limit!
Support the show
(https://www.patreon.com/theshortbox)