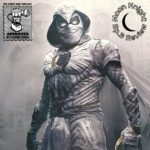 Badr & Drew fire up the third episode of Moon Knight and provide commentary as the episode plays, share their predictions for Marc's potential third personality, and ponder how the gods/deities in the MCU could all be related. Watch the full unedited video version of this podcast on our YouTube!
SUPPORT THE SHOW: 
Want to hear these episodes, and more, the second we post them? Subscribe to our Patreon! 
HELPFUL LINKS:
Proudly sponsored by Gotham City Limit!
Support the show
(https://www.patreon.com/theshortbox)