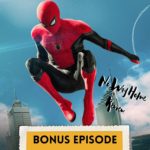 After a long unplanned hiatus, we're back to close out the year with an overdue conversation about No Way Home. Spoiler Warning if you haven't seen the movie yet, because we're talking in detail about our favorite scenes, moments and characters, predictions for the future of the franchise, and sharing our updated Spider-Man movie rankings

Want to support the show? Buy some merch!

HELPFUL LINKS:
Proudly sponsored by Gotham City Limit!
Support the show
(https://www.patreon.com/theshortbox)