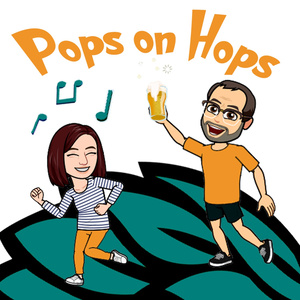 Barry, Abigail, and guest Matt Carlson of Harborcoat, The Stick Arounds, and The Pantones discuss Harborcoat's new album, Joy is Elusive, and sample Official Hazy IPA, Expedition Stout, and II : The Prairie-Grass Dividing (Leaves of Grass Series) from Bell's Brewery in Comstock, Michigan.
Matt and Barry met as Patreon subscribers of Stand Up! with Pete Dominick.
Harborcoat is an R.E.M. reference.
Matt listed Billy Bragg as an influence, particularly The Saturday Boy. He recommends Bragg's first US release, Back to Basics. Billy Bragg songs you may have heard include A New England (later covered by Kirsty MacColl) and Sexuality (co-written with Johnny Marr).
You can buy digital or physical copies of Joy is Elusive (and much of the rest of Matt's catalog!) from Matt's own record company, Phonophore Records. You can also find Harborcoat, The Stick Arounds, and The Pantones on Bandcamp.
Follow Barry or Abigail on Untappd to see what we're drinking when we're not on mic!
Facebook | Instagram | Twitter | YouTube | Website | Email us | Virtual Jukebox
--- Send in a voice message: https://podcasters.spotify.com/pod/show/pops-on-hops-podcast/message