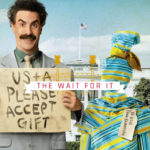 @MrEricAlmighty & @PhilTheFilipino are back on a Monday to review a sequel 14 years in the making. Today we bring you a full discussion of "Borat Subsequent Moviefilm". In 2006 we were introduced to the character of Borat, & in 2020 we find out what he's been up to since then. The film is available now on Amazon Prime, so naturally we are going to bring a full review. Is Borat Subsequent Moviefilm worth your time? Or is this an outdated concept? We'll tell you everything you need to know!

🔻Want to skip the lines for your next grocery trip? Use our referral link for Instacart to get free delivery on your first order over $35 and to support our show: > https://instacart.oloiyb.net/emZ9O <🔺

🔻BACKGROUND MUSIC PROVIDED BY: Ocean by KV https://soundcloud.com/kvmusicprod  Free Download / Stream: http://bit.ly/2OCvpHU Music promoted by Audio Library https://youtu.be/a8ctDtA7OK8 — Creative Commons — Attribution 3.0 Unported  — CC BY 3.0 🔺 
Instacart - Groceries delivered in as little as 1 hour.
Free delivery on your first order over $35.
Disclaimer: This post contains affiliate links. If you make a purchase, I may receive a commission at no extra cost to you.