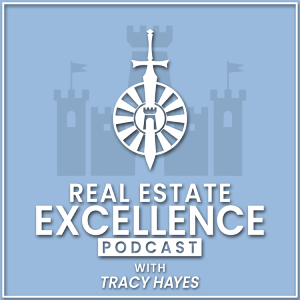 Some real estate agents like to work as a team, whereas others prefer to work solo. There are many power couples in the real estate market who have the ability to complement each other's skills, strengths, and weaknesses. Few, however, have the deeper connection of two siblings. And that's exactly what the sisters, Brook Hewitt and Tammy Baranowski, are bringing to the table.
Brook and Tammy grew up in Northeast California and have grown to become two of the most successful and knowledgeable realtors in the area. With the complementary personalities of a visionary and an integrator, they have worked together to build the largely successful real estate listing company JAX Listing Sisters.
On today's episode of Real Estate Excellence, Brook Hewitt and Tammy Baranowski join our host Tracy Hayes to discuss what it takes to successfully build a team, bring two opposite personalities to work together, grow a business, and deal with difficult customers among many other things.
Tune in to learn the secrets of real estate success from these two hard-working top agents.
[00:00-10:00] Introduction: Sisterhood and getting started in the real estate business
Being sisters is the foundation of Brook Hewitt and Tammy Baranowski's relationship.
Brook and Tammy are from Northeast Florida, although they lived in different towns.
Brook and Tammy took advantage of the fact that they grew up in the same area, where they later became real estate agents.
Nonetheless, they moved very often around the area, and constant relocation later became a big part of how they saw their business.
[10:01- 18:01] The ying for the yang: how two opposing personalities complement each other into a great team.
Brook and Tammy's personalities complemented greatly, as one of them was more motivated, and the other was more grounded and realistic.
How Tammy went from a massage therapist to a full-time professional real estate agent.
The return on investment for your money and time in real estate.
Brook's journey from a stay-at-home mom and farmer to a real estate professional. 
Why real estate helps build genuine connections with people.
Building trust and looking out for clients.
How Brook's background as a caretaker helped her develop the skills to relate to her clients.
[18:02 - 21:54] The visionary and the integrator: to complement personalities
Tracy cites Rocket Fuel by Wickman and Winters and how businesses require a visionary and an integrator.
How the sisterhood bond helps Brook and Tammy connect on a deeper level, and how this benefits their business.
How Brook and Tammy deal with the ego of the sibling rivalry and solve their disagreements.
The balance between self-promotion and bragging.
[21:55 - 26:14] Family, friends, mentorship, and building a real estate career
Brook's decision to exercise her real estate license after years of taking care of her daily.
The importance of mentorship in jumpstarting Brook's real estate career.
How Brook managed to close 27 deals in her first year.
Developing confidence by learning from and shadowing a mentor.
Taking every chance, you get to educate yourself, whether it's through talks, podcasts, or books.
[26:15 - 31:15] Education, motivation, and teamwork as the keys to jumpstarting a real estate career
How Tammy came into the real estate business by following the steps and advice of her sister.
Tammy felt frustrated with her career for not being able to provide for her family after having a second baby, which motivated her to become an agent.
Why shy personalities can also work in real estate.
Hopping on a team is key to getting started and learning the ins and outs of real estate.
Team environments weren't the best for Tammy's personality, but she decided to persevere and found a loving community.
[31:16 - 39:00] Working solo vs. working as a team: pros and cons for real estate agents
Real estate is a big multi-level marketing industry, and some companies like EXP don't hide that.
Dealing with brokerages and the differences in doing so as an individual or a team.
The importance of finding the right brokerage and how it can lead you to find the right mentorship.
Your mindset and objectives are key to knowing which broker is best for you.
Building real connections with your brokers, teammates, and other agents.
[39:01 - 50:52] Growing in the real estate business: long-term goals and retirement
How to balance gratification, taxes, and investment from your real estate revenues.
The importance of paying taxes on time.
Adding value to potential customers and mentors when starting in the real estate business and organizing events.
When coming to real estate events, you have to take action, talk to others, and focus on learning and building your network.
Build your business for the future by working on your building your team, your community, and your database.
[50:53 - 01:03:19] The business aspect of real estate: financial confidence, organization, and investment
Working in your business as well as on your business.
The time you need to set aside to organize your business and meet with your partners.
Figuring out your marketing and investment strategies to grow as a business.
How to make decisions when there are multiple people in charge.
Firing customers and employees can be sad and frustrating, but it's sometimes necessary, and you must know how to do it.
[01:03:20 - 01:09:17] Closing difficult deals and dealing with daily challenges
How to deal with houses in poor conditions and sellers with unrealistic price points.
When houses take too long to sell, it's almost always because they're not properly priced.
Connecting with clients when you work as a team as opposed to working solo.
Best tactics to use when you need to get your buyer's offer accepted.
Paying attention to experienced agents and learning from what they did during difficult times.
[01:09:18 - 01:15:44] The importance of building a brand and improving your reputation
Treat your customers properly, get the reputation of being easy to work with, and be an active part of your community.
Listing agencies have more power than most people realize when it comes to enabling deals.
Give customers extra guidance when making decisions about selling or buying their properties.
Mix and mingle with other agents, agencies, and brokerages by showing up to social events and meetings.
Competition is healthy, as it helps you improve your business and grow your brand.
Use social media to become known as an expert.
[01:15:45 - 01:21:59] How to keep your company organized by working as a team
Complementing personalities and abilities lead to a better distribution of work.
Knowing your strengths and weaknesses.
Getting organized is Brett and Tammy's biggest weakness, but they're able to figure it out thanks to their complementing abilities.
Getting consistent with the administrative work that most agents don't want to do by getting systems and schedules in place.
Hiring the right people. You've got to be quick to hire but also quick to fire.
[01:22:00 - 01:29:18] Appreciating and building bonds with your team
Keep your company family oriented and have various sorts of bonding activities with your team where they get involved with each other.
Nurturing your past clients through social and personal relationships is key to keeping your business consistent.
Interact with your clients on social media to keep in constant contact with them, but keep it easygoing and genuine.
Thoughtful gestures and sharing make all the difference with clients.
Use Facebook reels.
[01:29:19 - 01:33:04] Is it more important who you know or what you know?
What you know is important to keep your confidence and be effective at what you do.
Who you know is also important because it can help you find the answers to what you don't know, as well as build business relationships.
Brett and Tabby's different answers reflect their different but complementary personalities.
Quotes
"You must take a leap of faith and put yourself out there. It doesn't have to be perfect. Vulnerability is what attracts people to you." -Brook Hewitt
"Working as a team is great because we have different abilities, strengths, and weaknesses that complement each other, so we just lean towards our natural talents." -Brook Hewitt
"There is a level of humility that goes into getting into a team and recognizing that you have weaknesses that your teammates are there to complement." -Tammy Baranowski
"Being a visionary, I believe in investing back into your business, but it comes with figuring out exactly how much you invest back into the business and getting a proper ROI." -Tammy Baranowski
Make contact with Brook and Tammy to learn more about their business and their approach, or work with them yourself by visiting and following their social media and business pages:
https://twitter.com/jaxlistingsis
https://instagram.com/jaxlistingsisters
https://facebook.com/jaxlistingsisters
If you want to build your business and become more discoverable online, Streamlined Media has you covered. Check out how they can help you build an evergreen revenue generator all 
powered by content creation!
SUBSCRIBE & LEAVE A 5-STAR REVIEW as we discuss real estate excellence with the best of the best.