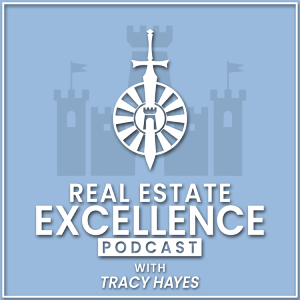 Your mission and vision are the most important factors in success in real estate. This is what  Cherya Cavanaugh wishes to convey to the audience in this incredible episode of real estate excellence.
Cherya Cavanaugh, is a top selling realtor who has worked with widely successful real estate companies such as Re/Max and Keller Willims, and grew all the way from being a teacher to founding and growing one of the most successful real estate teams in the US. Cherya is the CEO of the Cavanaugh Team, which she founded alongside her husband, Tom. In her own words, real estate has become a vessel for them to experience financial freedom, lifestyle freedom, and, most importantly, an opportunity to positively impact their community.
Tune in to learn how a mission-driven focus can boost your success as a real estate entrepreneur.
[00:00 - 07:41] From Education Major to Top Producing Real Estate Agent
• Cherya Cavanaugh is a respected real estate agent in northeast Florida.
• She and her husband lead a top-producing team with over a decade of experience.
• Sherra was an education major and taught horticulture and biology for 14 years before becoming a real estate agent.
[07:41 - 14:56] How a Family Found a Diamond in the Rough During the Market Crash
• When the market crashed, Cherya moved back to Florida with no income.
• She discovered a diamond in the rough in the Nocatee, FL, real estate market and saw potential in the older population, 55 and over, who were ready to capitalize.
• Post-Covid community come to Florida for lower taxes and better education.
[14:56 - 21:55] 1500 Homes Sold in Northeast Florida Over Past 10 Years
• Nearly a thousand people move to Florida, and a hundred people move to St. John's County daily.
• The entry price point in St. John's County is high, making affordable housing a challenge.
• Nassau County school system is number two in the state.
• The Cavanaugh Team has sold 1500 homes in Northeast Florida over the past 10 years.
[21:55 - 29:06] The Value of Going Small to Grow Big
• The Cavanaugh Team initially chose their brokerage based on relationships and a high level of integrity
• They had hit the top of the ceiling with Re/Max but wanted something that could become a passive income.
• When they moved to Keller Williams, they trimmed down the team size and learned that some of those members had replicated what they were taught and created their own successful teams.
[29:06 - 36:14] Inspire Your Teammates and Help Them Achieve Their Goals
• It takes hard work and empathy to grow a team.
• Start the year with a vision, then retreat to focus on personal and business goals.
• Provide an environment of inspiration for team members.
• Help team members achieve their own goals, such as buying their own homes.
[36:14 - 44:21] How Top Producers Maximize Experiences and Memories
• When looking for a team member, Cherya looks for someone who will buy into the culture.
• When asking questions for an interview, including what motivates the person (money or mission).
• Top producers stay top of mind by doing different events and staying in touch with past clients.
[44:22 - 51:20] The Benefits of Hiring an Assistant in Real Estate
• Many real estate agents regret not having hired an assistant earlier.
• Some of the benefits of having an assistant include:
• Having a margin in your calendar for conversations and phone calls.
• Being able to focus on the business side of things instead of the administrative side.
• Cherya also recommends business practices such as:
• Making sure customers feel comfortable in the house they are viewing.
• Mentioning other family members when talking to customers
• Checking in on customers even after transactions are complete
[51:20 - 58:58] How to Leverage Your Strengths to Maximize Your Success
• As soon as you make your first commission check, hire an assistant to help with contract management.
• Find someone who wears the hat better than you and leverage your strengths.
• Real estate agents must be available 24/7, but it's also important to have free time to clear your mind. This is why having an assistant helps.
[58:59 - 01:05:54] Creating Vision, Knowing Numbers, and Producing Momentum
• The role of a CEO is to create a vision, know numbers, and produce momentum
• Coaching is a key part of team development.
• Value must be added to meetings and learning sessions.
[01:05:54 - 01:12:38] Training Your Mature Team to Get Off the Fence
• Cherya Cavanaugh's two rules for meetings: no meeting without a mission and no discussing administrative breakdowns in a meeting.
• Start every team meeting with a celebration, even if it was a bad week.
• Retention is key: focus on creating a vision and holding people accountable to their personal goals.
[01:12:38 - 01:19:42] Why 80% of Agents Fail in the First Two Years
• Relationships and trust are important factors in real estate.
• People need to consider the cost of maintenance when selling a home.
• Camaraderie is the best catalyst for production.
• Most agents fail in the first two years due to a lack of guidance and motivation and not treating their business like a business.
[01:19:42 - 01:26:51] The Cavanaugh Team: Making Memories and Leaving a Legacy
• It is important to be intentional about every moment and movement when running a business.
• The Cavanaugh Team's mission is to help customers make memories and leave a legacy.
• It is more important to know who you surround yourself with than what you know.
Quotes:
"We've learned how to triumph through tragedy. We find a diamond in the rough and learn how we can grow." -Cherya  Cavanaugh
"If you stay true to your commitment, then you'll continue to be successful." -Cherya  Cavanaugh
"We utilize real estate to make magical moments around the Christmas tree." -Cherya  Cavanaugh
"Quality conversations come from couch moments." -Cherya  Cavanaugh
If you wish to learn more about Cherya's business, stay tuned for her new projects and get the opportunity to network with her, don't forget to visit her social media, as well as Team Cavanaugh's business website:
https://www.instagram.com/cavteam10/ https://www.facebook.com/cavanaughrealestatepontevedra/ https://www.linkedin.com/in/cherya-cavanaugh-b38b79258/
If you want to build your business and become more discoverable online, Streamlined Media has you covered. Check out how they can help you build an evergreen revenue generator all 
powered by content creation!
SUBSCRIBE & LEAVE A 5-STAR REVIEW as we discuss real estate excellence with the best of the best.