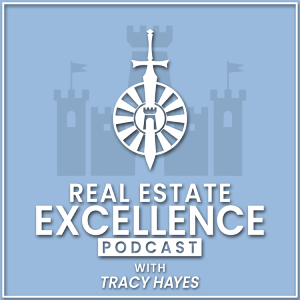 Discipline, consistency, and a strong team can take you from a beginner agent struggling to make a sale to a seasoned real estate professional closing dozens of deals each year. This is one of the lessons taught to us today by Chris Snow, a high-performing realtor and the leader of the Florida Coastal Team in St Augustine, FL.
Chris is an educator by profession who taught in schools for many years before realizing that, as passionate as he was for education, the current system doesn't reward people with a competitive spirit like his. His drive to grow and fulfill his competitive nature drove him to become a real estate agent, which he has done now for nearly 20 years, in which he closed over 1500 deals.
Join us in this inspiring episode of Real Estate Excellence and learn how you, too, can grow to perform at the top level. 
00:00:00 - 00:10:52 Introducing Our Guest, The Team Leader Chris Snow
Tracy Hayes introduces Chris Snow, a top-performing realtor who knows the ins and outs of the industry.
Tracy and Chris discuss the topic of consistency as the key to success in real estate.
Chris emphasizes the importance of doing things that make you money and not spending time on things whose benefits aren't measurable.
00:10:52 - 00:20:35 Consistency and Coaching as Keys to Real Estate Success
Realtors succeed by doing what works and doing it consistently.
Getting a coach can make a huge difference in your professional development in any area.
Focusing on strengths and 10x-ing them.
Staying focused, having a clear schedule, and avoiding distractions.
00:20:35 - 00:30:40 Prospecting, Connections, and Networking
The role of brokerages in success. The broker won't make you successful. They help you create connections and access resources. 
You need to figure out what makes sense for you as a business. 
Look for good sources of motivation.
Chris and Tracy talk about the common ground between real estate and football to highlight the importance of coaching.
00:30:40 - 00:43:32 The Power of Surrounding Yourself With Succesful People
Putting yourself in rooms where you are the smallest fish is important for your growth. 
How team environments can provide value, help your growth and ultimately increase your sales.
How to convert leads, have conversations with people, and increase your sales.
The power of going to training, speaking to people, and learning from others.
00:43:32 - 00:52:21 The Things that Make a Succesful Real Estate Agent 
3 things that every agent should be doing:

Having conversations with people about what you do and asking yourself how to have more.
Build a sphere of influence from your database and your online leads.
Staying focused on your dollar-producing activities.

Learn how to manage information and leverage people who can help you.
How to stay motivated and overcome setbacks.
00:52:21 - 01:03:17 Navigating Change and Uncertainty
Discussing the effects of internal migration and the impact of interest rates in the housing market. 
Strategies for managing risk and navigating new challenges.
An influx of inventory can drive the prices down again, and you need to strategize around that, but it's hard for it to happen.
Chris shares how he's navigated uncertainty in his businesses by staying agile and focused on his long-term vision.
01:03:17 - 01:10:22 Staying Focused and Keeping a Process-Centered Attitude
3 things that make a top real estate agent:

Focusing on doing one thing really, really well. Don't spread yourself thin.
Marry the process and detach yourself from the outcome. Know what you can and cannot control. 
Make a schedule and be disciplined about it.

How to stay transparent and honest with your clients.
01:10:22 - 01:23:40 Leveraging the Advantages of a Strong Team
Chris talks about the things that set apart his team, the Florida Coastal.
The importance of team culture and mutual support.
Even solo agents can benefit from having connections and feedback from others.
How being on a team accelerates your learning and the number of transactions you make before making you confident enough to go solo.
 
01:23:40 - 01:27:05 Closing thoughts
Real estate agents are their own business within a business. 
Discipline and owning your calendar give you freedom.
A final thought on the power of consistency for achieving your goals.
Quotes:
"A brokerage can provide some guidance and legal counseling, but at the end of the day, it's about me deciding that I want to work today and work every day. The brokerage isn't going to make me successful." - Chris Snow
"Choose a path, be consistent. Go deep and don't go wide." - Chris Snow
"If you only have people in your life telling you how good you are, you're gonna hit a plateau. If you want to grow, you need to be in rooms where you're the smallest fish." - Chris Snow
"Look at your dollar-producing activities and protect your time. Don't let it go to waste on distractions."  - Chris Snow
If you want to get in contact with Chris Snow, keep up with his projects, and make him a part of your network, be sure to follow him on social media and visit his business website:
Business site: https://www.floridacoastalteam.com/
Instagram: https://www.instagram.com/chrissnow30777/
Facebook: https://www.facebook.com/chris.snow.7547
YouTube: https://www.youtube.com/channel/UCUwDaOlY0S5sKlIeo30H5Bg95
LinkedIn: https://www.linkedin.com/in/christopher-t-snow-a5b192231/
If you want to build your business and become more discoverable online, Streamlined Media has you covered. Check out how they can help you build an evergreen revenue generator all 
powered by content creation!
SUBSCRIBE & LEAVE A 5-STAR REVIEW as we discuss real estate excellence with the best of the best.