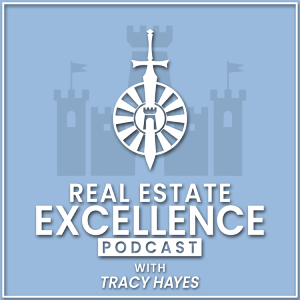 If you want to succeed as a real estate agent, there are 3 fundamental things you need to know before getting into the industry. Danielle Fraser, a widely succesful agent who also participates in multiple community-building associations, is joining us today to teach you what those things are.
Danielle Fraser is a former IT manager who came into the real estate business with the idea of helping people and contributing to her community. She has a wide range of skills that have made her a leader in various organizations, including the Saint Augustine St. Johns Board and the Whitney Lab trustees board. With 5 years of experience as a real estate advisor, she has been awarded the title of real estate of the year, and she has managed to build an incredible team, grow a successful business, and teach many newcomers in the industry about how to succeed.
Join us to learn how you can succeed in your real estate business while also contributing to your community and your own personal growth.
[00:01 - 07:13] 2022 Realtor of the Year, Danielle Fraser, Shares Her Journey
• Danielle is also a pilot and on the board of Trustees at Whitney Laboratory in St. Augustine.
• She is committed to improving both the real estate industry and her community.
• Her original aspiration was to become a psychiatrist, and she ended up in real estate at a friend's recommendation.
[07:13 - 14:00] How a Passion for STEM Education Led to Real Estate
•  Danielle had a STEM background from a young age.
• She worked as an IT program manager at Northrop Grumman and met her husband there
• She was involved in volunteer work, including serving on the board of trustees for the Whitney Lab marine sciences center.
• Speaker finds joy in giving back and impacting the community, which led her to real estate.
[14:01 - 21:03] Danielle's Background in Marine Life Research
• Whitney Lab has a sea turtle hospital and is building a new laboratory.
• The lab studies fish swimming and collaborates with the University of Florida School of Engineering.
• They also breed "super clams" to help clean the decimated Indian River lagoon.
• There is currently no visitor center at Whitney Lab, but building it is a goal for the future, and Danielle can help with her real estate experience.
[21:03 - 27:49] Real Estate Agent Shares Tips for Success in the Industry
• Real estate is about relationships and requires dedication, education, and commitment.
• Consistency and adding value to clients are key to success.
• New agents should seek out experienced agents for guidance and understanding of the industry.
• Understanding clients' needs and providing above-average service is important in real estate.
[27:50 - 34:47] Finding Your Authentic Prospecting Style and Creating Processes
• Importance of business acumen in real estate.
• Need for investment and understanding of business.
• Creating processes and procedures for success.
• Finding authentic prospecting methods.
[34:47 - 42:16] Choosing the Right Brokerage and Board Challenges Post-COVID
• Collaboration is key in real estate, with successful agents sharing their strategies with others.
• Choosing the right brokerage is crucial for success and requires interviewing brokers and understanding their values and business models.
• Setting expectations is crucial in both relationships with brokerages and clients.
[42:16 - 49:14] Engagement and Relationship Building Through Technology
• Relationships are essential in the real estate world, not just with clients but also with other agents.
• Physical engagement and interaction have been lost due to technology, but technology is providing other means to relate. 
• Getting involved with a real estate board can lead to opportunities for leadership and referral opportunities.
[49:14 - 56:13] St. Augustine Real Estate Board's Mission and Purpose
• Agents want support for their business, more education opportunities, and events. The board focuses on providing that. 
• Board has sponsored individuals to get their GRI certification
• St. Augustine/St. John's board is powerful due to its location and unique issues.
[56:13 - 01:03:18] Working Towards Your Personal and Unique Success
• Time blocking and building routines are important to balance work and personal life.
• Success is defined by individual goals, not by comparison with others.
• Any form of success can be achieved by knowing your clientele and how to market to them.
• Process-oriented approach to success in real estate.
[01:03:18 - 01:10:05] How to Network and Surround Yourself Well
• You need to understand your neighborhood and communities, and surrounding yourself well is essential for this.
• Attending weekly office meetings for collaboration and growth can be a good way to network.
• Mindset is half the business.
• Preparation is key in real estate, from decluttering to staging.
• Be accommodating to clients' schedules and needs.
[01:10:05 - 01:16:26] Setting Expectations and Understanding Market Conditions
• First impressions are essential for a good real estate listing. 
• There's a need for upfront conversations with buyers and sellers about market conditions.
• Stressful expectations of sellers for quick offers and multiple bids can lead to failure.
• Dealing with inflation and interest rate fluctuations in real estate transactions is stressful but necessary. 
• There needs to be clear and realistic expectations based on buyer/seller needs and market conditions.
[01:16:27 - 01:22:47] Support, Education, and Mentorship as Keys to Success
• Agent retention is a challenge. Mentorship and support are critical.
• Misconceptions about the industry can lead to disappointment.
• Teaching fundamentals and growing systems/processes can help agents succeed.
• A mentor program and leadership academy can assist new agents.
• Knowing who to reach out to for help is more important than who you know.
Quotes:
"Don't be afraid of detours, because detours turn into opportunities" - Danielle Fraser
"Real estate is about relationships. And anything that's about relationships is a long lead game." - Danielle Fraser
"Be genuine, be true to yourself, and that truth will shine through." - Danielle Fraser
"Success can only be defined by yourself. Focus on what is important to you, setting your own goals, not someone else's goals." - Danielle Fraser
To join Danielle's community, stay tuned for her latest projects and content, and get an opportunity to contact her and network with her, don't forget to visit her social media and business websites:
Danielle's business site: https://www.daniellefraserrealestate.com
Twitter: https://www.twitter.com/StAugLiving/
Instagram: https://www.instagram.com/danielle.fraser.real.estate/
Facebook: https://www.facebook.com/StAugLiving/
YouTube: https://youtube.com/@daniellefraserrealestate
LinkedIn: https://www.linkedin.com/in/daniellefraserrealestate/
Pinterest: https://www.pinterest.com/StAugLiving/
If you want to build your business and become more discoverable online, Streamlined Media has you covered. Check out how they can help you build an evergreen revenue generator all 
powered by content creation!
SUBSCRIBE & LEAVE A 5-STAR REVIEW as we discuss real estate excellence with the best of the best.