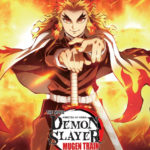 @MrEricAlmighty saw Demon Slayer The Movie: Mugen Train in theaters recently with his brother, and our special guest for this episode, Stefan! After breaking anime box office records worldwide, we get together to discuss if it worthy of all the hype by giving our overall thoughts in the form of full spoilers, so think twice before pressing play if you haven't seen the film.

Want some more content to binge? Come back later this month where Stefan makes another guest appearance on our series called Intro to Anime. Also make sure to follow The Wait For It Podcast on our YouTube page for some more bonus content throughout the year.

🔻[*AFFILIATE LINK BELOW*] - Depending on your streaming app, links may be distorted in text. If so, you can find this episode on our main site at > waitforitpodcast.buzzsprout.com <🔺

🔻Want to start podcasting? Use our referral link to Buzzsprout for a $20 Amazon Gift Card and to support our show: https://www.buzzsprout.com/?referrer_id=872095🔺

🔻BACKGROUND MUSIC PROVIDED BY:
Ocean by KV https://youtube.com/c/KVmusicprod​
Creative Commons — Attribution 3.0 Unported  — CC BY 3.0
Free Download / Stream: http://bit.ly/2OCvpHU​
Music promoted by Audio Library https://youtu.be/a8ctDtA7OK8
🔺
Buzzsprout - Let's get your podcast launched!
Start for FREE
Disclaimer: This post contains affiliate links. If you make a purchase, I may receive a commission at no extra cost to you.