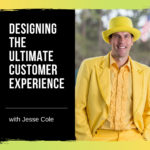 If you want to keep your customers and grow your business, you need to create loyal fans.
Designing the Ultimate Customer Experience with Jesse Cole
Jesse Cole is the owner of a baseball team. He and his team sell out 4000+ seats to every single game and there is even a waiting list to get tickets. But Jesse started his first season by selling only ONE ticket. He learned a lot about designing the ultimate customer experience that helped him become a success. Jesse share's his wisdom with us in this episode.
5 Steps for designing the ultimate customer experience:
Step #1: Solve problems
What are the problems in your industry? (Every industry has them!)
Step #2: Normal vs Opposite
Plan, then define, what a normal experience looks like. Then do the opposite. (It can be weird, you have to be willing to look weird) Do the exact opposite of what's considered normal.
Step #3: Customer journey
What happens in the transitions? How can you make the process transitions stand out? With your invoices, with product transit times? Do you design the emotions that you want your fans to feel?
Step #4: Fans first mentality
Who are you, what do you stand for? This goes beyond your mission statement; this is your culture. Great leaders say the same thing over and over again. Can the people around you imitate you?
Step #5: Connection.
Spread love and passion with your fans.
For full show notes and resources, visit: https://creatingabrand.com/designing-the-ultimate-customer-experience-with-jesse-cole