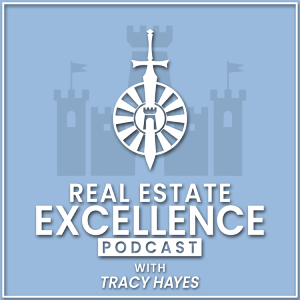 In 2023, one skill is key to succeeding in the real estate industry, which most agents don't care to learn or put into practice. According to Dustin Brohm, one of the top-selling agents at eXp Realty and a highly successful podcast host, that skill is to make compelling videos for social media platforms.
Dustin Brohm has more than 20 years of experience working as a real estate agent, and he's the author of multiple books about real estate and succeeding in the business. As a former columnist for HousingWire, Dustin understands the power of communication. This led him to create the Massive Agent Podcast, which has since seen incredible success, turning Dustin into an authority figure in the real estate industry.
Don't miss this episode of Real Estate Excellence to learn how to use the power of video and communication to become a massively successful agent.
[00:00 - 07:57] Dustin Brohm on Choosing the Right Brokerage for Your Goals
• Dustin Brohm became interested in real estate after reading the book Rich Dad, Poor Dad by Robert Kiyosaki.
• He initially wanted to be a real estate investor but realized he needed knowledge, so he set out to get a license.
• Finding the right brokerage is It is essential in order to find the right culture, mindset, and mentors you want to work with. 
• Having income, family time, freedom, and flexibility are all possible in real estate.
[07:57 - 15:05] How to Find Your Passion and Stick With It
• Be honest with yourself about what you want to do.
• Test a few things before committing to one.
• Give yourself 3-6 months to see if it's the right fit.
 • Don't be afraid to quit something that isn't working for you.
[15:06 - 22:01] The One Thing Every New Real Estate Agent Should be Doing
• Having the right mentors and implementing strategies can help with a successful business start.
• Video is essential to be relevant in 2023 and beyond.
• Confidence is key, and video helps build it.
• Setting proper expectations is important when starting to create video content..
• Posting on social media platforms helps to build credibility and stay top of mind.
[22:01 - 30:23] Tips for Realtors to Create Impactful Videos
• Billboards, social media ads, flyers, and banners can help build up credibility and omnipresence over time.
• It's important to attract the right people with your content, not all people.
• When creating home walkthrough videos, practice is key.
• Look at what others are doing that is successful and use it as a blueprint for your own videos.
[30:24 - 37:59] Leverage Your Social Media to Boost Your Real Estate Business
• Post content on multiple platforms to get more visibility.
• Utilize Facebook, Instagram, TikTok, YouTube Shorts, and LinkedIn.
• Learn how to use AI to write the best copies, assess data and find your target audience. 
[37:59 - 45:21] Explore the Benefits of Chat GPT for Real Estate Agents
• Focus on the results, not the features, when trying to appeal to a broader audience.
• Use Chat GPT to eliminate blank page syndrome and generate ideas for your content.
• Chat GPT can be used to create scripts for videos, social media captions, articles for local websites, and book summaries.
• Advanced ways of using Chat GPT include creating graphics and becoming a chatbot for your website.
Quotes:
"When it comes to regular jobs and grinding, it's okay to say, I don't want that. I want income, and I want, I want family time, I want freedom. I want flexibility. It's all possible. You just need to follow the right path and adopt the correct mindset." -Dustin Brohm
"It's hard to read the label from inside the bottle. You need people on the outside to be like show you the things you can't see from the inside." -Dustin Brohm
"We all suck when we first start making content, but those who do it successfully are the ones who push through that first phase of sucking." -Dustin Brohm
"Focus on the results, not the features, not the tools." -Dustin Brohm
To stay up to date about Dustin's upcoming projects, contact him and get a chance to make him a part of your network, make sure to follow him on social media and visit the Massive Agent Society website:
http://www.massiveagentsociety.com
https://twitter.com/massiveagent
https://www.instagram.com/massiveagent
https://www.facebook.com/groups/massiveagents
https://youtube.com/@MassiveAgent
If you want to build your business and become more discoverable online, Streamlined Media has you covered. Check out how they can help you build an evergreen revenue generator all 
powered by content creation!
SUBSCRIBE & LEAVE A 5-STAR REVIEW as we discuss real estate excellence with the best of the best.