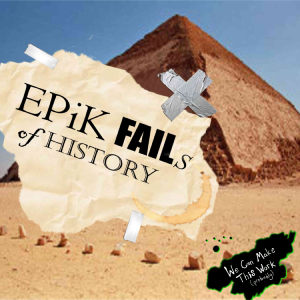 In honor of the 50th anniversary of Apollo 11's historic mission to the moon, Erik and Chris kick off Season 2 with a galactic-sized space-themed episode! Skylab, Voskhod 2, failed probes, Elon Musk, super stubborn Soviet scientists, and a special guest interview with Space GAAM's Ryan Paul Thompson on some of the biggest fails in video game history!
For more epic (space) fails, check out "The Race to Space: Countdown to Liftoff" by Erik Slader and Ben Thompson!
Tickets are available now for SPACE GAAM! (Saturday, August 17th at the Schultz Center in Jacksonville, Florida)
- Music clips: "Space Oddity" by David Bowie (1969), "The X-Files Theme" (1993), and "Metroid" (NES, 1987)
- Movie clips: "2001: A Space Odyssey" (1968), "Monty Python and the Holy Grail" (1975), "Hitchhiker's Guide to the Galaxy" (2005), "The Martian" (2015)
Follow / Message Us on Social Media:
E-mail: [email protected]
Twitter: @ErikSlader @EpikFailsdotcom
Instagram: @ErikSlader @EpikFailsofHistory
All 4 EPIC FAILS books are now available on Amazon! (Get a free audio book on Audible at http://www.audibletrial.com/EpikFails) You can also support me here: BuyMeACoffee.com/EpikFails!
This podcast is a production of the We Can Make This Work (Probably) Network follow us to keep up with this show and discover our many other podcasts!