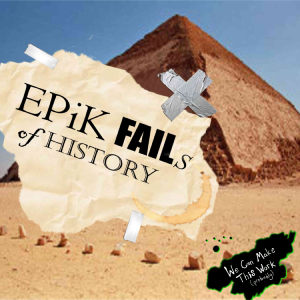 Russian Roulette with nukes!
- In Part 2 - ERIK, CHRIS, and high school history teacher, BRETT RICKETTS, discuss the KGB, JFK, Khrushchev, nuclear submarines, Vasili Alexandrovich Arkhipov, several close calls throughout the Cuban Missile Crisis, and ultimately consider whether or not the Cold War ever really ended...
Will Khrushchev call JFK's bluff? Will the human species survive? Will the podcasters stay on topic? Find out only on Epik Fails of History!
LINKS:
Nuclear Explosion Footage Montage
Nuclear Warheads Around the World (Updated)
*Also be sure to check out the original three-part blog article: The Cuban Missile Crisis: Cold War On Defrost! (2016)
MUSIC CLIP: "The Final Countdown!" by Europe (1986)
Movie Clips: "The Hunt for Red October" (1990), "Star Trek II: The Wrath of Khan" (1982), "The Princess Bride" (1987), "Dirty Harry" (1971)
Follow / Message Us on Social Media:
E-mail: [email protected]
Twitter: @ErikSlader @EpikFailsdotcom
Instagram: @ErikSlader @EpikFailsofHistory
All 4 EPIC FAILS books are now available on Amazon! (Get a free audio book on Audible at http://www.audibletrial.com/EpikFails) You can also support me here: BuyMeACoffee.com/EpikFails!
This podcast is a production of the We Can Make This Work (Probably) Network follow us to keep up with this show and discover our many other podcasts!