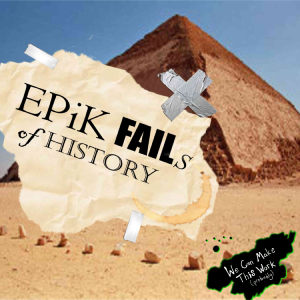 Episode 26.5 - Erik Slader takes a break from his normally scheduled chaos to do a quick update on the state of the podcast, why it's on (temporary) hiatus, what other projects he's been up to, and what's coming soon - also, a brief history of "Murphy's Law" and a Buddhist story about how everyone has 83 problems...
Music Clips: "Tumbling Tumbleweeds" by Roy Rogers & Sons of the Pioneers (1934), "Something Just Like This" by The Chainsmokers and Coldplay (2018)
Epik Fails of History will return!
In the meantime, check out some of my other podcasts:
Guest Appearances:
And a few of my recent (nerdy) articles:
Follow / Message Me on Social Media:
E-mail: [email protected]
Twitter: @ErikSlader
Instagram: @ErikSlader
All 4 EPIC FAILS books are now available on Amazon!
You can also support me here: BuyMeACoffee.com/EpikFails!
This podcast is a production of the We Can Make This Work (Probably) Network follow us to keep up with this show and discover our many other podcasts!