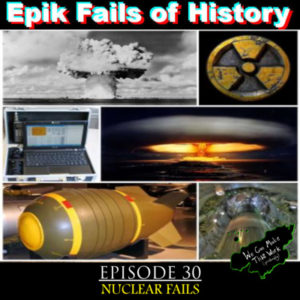 Episode 30 - Erik is joined by both his co-hosts - Chris and Justin - recording together *in person* (for the first time since Episode 3), for a very special milestone episode! Read Erik's original article, Nuclear Fails: 10 of the Most Terrifying Atomic Mistakes in History - here!
Also on this Episode:
Epik Wins of History: Lonnie Johnson
Nobody Expects the Epik Inquisition! (Pop Quiz)
The Bracket of Fails:
Christopher Columbus vs Guy Fawkes
Ethelred "the Unready" vs "Holy Roman Emperor" Joseph II 
Music Clips: "Chained to the Rhythm" by Katy Perry w/ Skip Marley (2017), "Radioactive" by Imagine Dragons (2012), "99 Red Balloons" by Nena (1983), "Don't Fear the Reaper" by Blue Oyster Cult (1976),
Audio Clips: "War Games" (1983), "Duck and Cover" (1951), "Duke Nukem 3D" (1996), "Aliens" (1986), "Godzilla" (1956), "Thunderball" (1965), "Star Wars" (1977), "Mad Max: Fury Road" (2015), "The Simpsons", "South Park", etc
Outro Music / Segment Jingles by DeftStroke Sound!
And you can support me by buying my latest book, "2299" on Amazon!
Follow / Message Us on Social Media:
E-mail: [email protected]
Twitter: @ErikSlader @EpikFailsdotcom
Instagram: @ErikSlader @EpikFailsofHistory
Click here to join our Facebook Group!
All 4 EPIC FAILS books are available on Amazon, as well as my latest sci-fi novella, "2299"!
(Get a free audio book on Audible at:  http://www.audibletrial.com/EpikFails)
You can also support me directly here: BuyMeACoffee.com/EpikFails
This podcast is a production of the We Can Make This Work (Probably) Network follow us to keep up with this show and discover our many other podcasts - including: 2 Young 4 This Trek, Comic Zombie, and Podcasters Assemble!