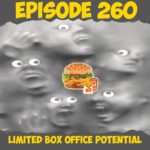 Shaggy Black fills-in to help us recap GAAM night and discuss the latest New Mutants' movie news, plagiarism accusations against Hickman and House of X, and starts an unnecessary Popeyes vs Chik-Fil-A "dialogue".

Timestamps:
New Mutants @ 00:15:20
Hickman accusations @ 00:40:07
Comic book organizing @ 00:59:40
Chicken sandwich talk @ 01:08:46 
 
Want to support the show in exchange for bonus episodes and merch? Consider becoming a patron! 
Stay up-to-date on the latest Short Box episodes and happenings by following us on social media @theshortboxjax
Support the show (https://www.patreon.com/theshortbox)