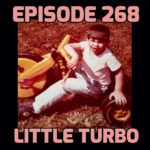 The crew is reunited in full to recap the Comic-Swap food-drive (thank you to everyone that attended!), talk about their upcoming TedX event (December 5th), discuss the latest headlines (see the timestamps below), and listen to Cesar share an intimate memory from his childhood thanks to a listener email. 
Timestamps:
Comic-Swap Recap - 0:08:30
Batman Casting - 0:23:20
Moon Knight - 0:30:45
G4 Documentary - 0:34:10
Into The Spiderverse 2 - 0:52:07
MUSIC BREAK - Mecca Tha Marvelous ft/ TKZ - "Where were you" -   1:01:38
Email (Cesar Fanfiction) - 1:04:20
Champion - 1:14:57

Want to support the show in exchange for bonus episodes and merch? Consider becoming a patron! 
Stay up-to-date on the latest Short Box episodes and happenings by following us on social media @theshortboxjax
Never miss an episode by subscribing on your favorite podcast app, just search THE SHORT BOX! Or visit Shortboxjax.com
Support the show
(https://www.patreon.com/theshortbox)