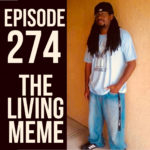 Our first episode of 2020 finds us chatting about the latest comic book & movie headlines/news of the year so far, and Shaggy Black talks about his short-lived internet fame. Check out the timestamps below for specific topics:
TIMESTAMPS:
Morbius leaked image (*pre-trailer)  - 00:12:15
Dr. Strange 2  - 00:20:56
Christian Bale/Beta Ray Bill casting- 0027:40
The New Mutants movie - 00:36:00
DC Comics 5G Timeline - 00:45:14
Special Champion Season: Most Anticipated in 2020 List - 01:10:06
Want to support the show in exchange for bonus episodes and merch? Consider becoming a patron! 
Stay up-to-date on the latest Short Box episodes and happenings by following us on social media @theshortboxjax
Never miss an episode by subscribing on your favorite podcast app, just search THE SHORT BOX! Or visit Shortboxjax.com
Support the show
(https://www.patreon.com/theshortbox)