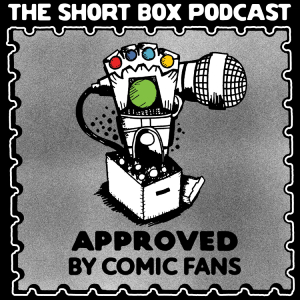 The critically acclaimed, superhero, action-horror comic: The Strange Talent of Luther Strode, by Justin Jordan & Tradd Moore, is this week's main topic (00:09:03). Followed by fan-mail (00:39:01), a brief recap of WandaVision episode three (00:46:50), and the return of our dedicated segment focused on new comics (00:55:00). 
READ: The Strange Talent of Luther Strode #1
LISTEN: To our Justin Jordan interview 
THE CREW'S COMIC PICKS:
Ashley - DC Future State: Superwoman
Badr - DC Future State: Swamp Thing 
Cesar - Batman/Catwoman 
Ed - Rain Like Hammers
 Music from the show: Mecca Tha Marvelous "Gawd is Marvelous"

Support the show by becoming a Patreon subscriber, and receive early access to our weekly shows, bonus  episodes, merch, and other rewards. #makemineshortbox 


Proudly sponsored by Gotham City Limit!
Support the show
(https://www.patreon.com/theshortbox)