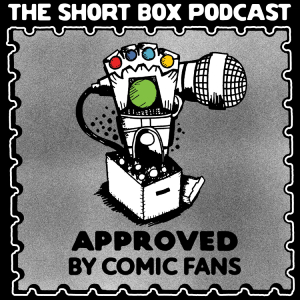 Inspired by the recent episodes of WandaVision, we're taking a look at  Young Avengers (Vol.1), created by Allan Heinberg & Jim Cheung. The original 2005 series helped reintroduce the Scarlet Witch's children: Billy Kaplan (Wiccan) & Tommy Shepherd (Speed), as members of a new team of teenage heroes. 

In addition, the crew also broke a tiebreaker between Brian Bolland & Dave Gibbons, to announce the winner of the next artist spotlight (00:42:59 ), and talked about some of the best new/recent comics, out right now (00:46:43). 
The Crew's Comic Picks:
Ashley - DC Future State: Catwoman
Ed - The Picture of Everything Else
Cesar - Phantom Starkiller 
Badr - Batman: Black & White 
 The Short Box is made possible by sponsor & listener support on Patreon. Support the show & join our Patreon community!

Podcast logo by Ashley Lani Hoye, and other artwork by Edmund "Edbot5k" Dansart
And you can follow hosts: Badr & Cesar 
Support the show (https://www.patreon.com/theshortbox)
Proudly sponsored by Gotham City Limit!