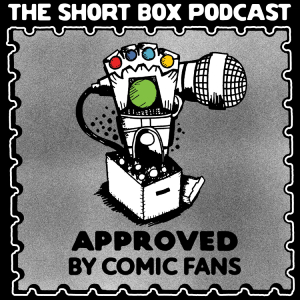 British comic artist, writer, and colorist: Brian Bolland, is the subject of our latest Artist Spotlight segment (00:07:28).  Bolland has a hyper photo-realistic style that has made him a favorite among comic fans for decades. We're analyzing his catalog of work that includes critically acclaimed projects like Judge Dredd/2000 A.D., Batman: The Killing Joke, and  his artwork on HUNDREDS of covers for DC comics such as Animal Man, Wonder Woman, The Flash, and more. 
Other topics/segments covered in this episode: 
Opener Topic: Superman Reboot With Ta-Nehisi Coates & J.J. Abrams 
No Comic Shop for Old Men (00:50:05): 
Champion Recommendations (01:00:31)
New Comic Picks This Week:
The Short Box is made possible by sponsor & listener support on Patreon. Support the show & join our Patreon community!

Podcast logo by Ashley Lani Hoye, and other artwork by Edmund "Edbot5k" Dansart
And you can follow hosts: Badr & Cesar 
 
Proudly sponsored by Gotham City Limit!
Support the show (https://www.patreon.com/theshortbox)