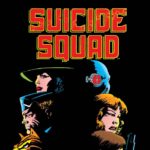 Zack Armour (of Comic Ventures) joins Badr, Ashley, and Ed for a spotlight dedicated to John Ostrander & Luke McDonnell's seminal 1987 Suicide Squad comic (00:04:53), a landmark series that heavily inspired James Gunn, the director of the new upcoming film of the same name. The crew also discusses their favorite versions of the team and address the movie's promising early reviews, and find time to highlight the best digital comic platforms available (00:58:57). And the Marvel Tattoo contest winners are announced this episode! (01:04:23)

Recurring segments: Fistful of Comics (00:47:20) & Champion Season (01:08:14)

Listen to extended versions of weekly episodes, and get access to our spin-off podcast series, when you join our Patreon community.

HELPFUL LINKS:
Proudly sponsored by Gotham City Limit!
Support the show (https://www.patreon.com/theshortbox)